More Hotels - Asbury Park, NJ
Vintage postcards of hotels in Asbury Park, NJ
Advertisement, June 6 1916
The Albemarle
Hotel Altman
Asbury-Arlington Hotel
6th Avenue
Asbury-Carlton Hotel
H.S. Jackson, Ownership Management
Ocean Front - ASBURY PARK, N.J.
American and European Plans
Automatic Fire Sprinkler System
Elevator - Phone PRospect 4-4200
Postmarked July 10, 1955
The Asbury-Caelton
Asbury Carlton Dining Room
Postmarked June 6, 1966
Asbury Carlton Dining Room Menu
September 6, 1947
Belmont Hotel
300 Asbury Avenue
The Belmont Hotel
2003
The Belmont Hotel was destroyed by a fire in February of 2006
BON-AIR
Exclusive Guest House
Two Blocks From Ocean
307-309 Third Ave (Corner Heck St.)
Asbury Park, N.J.
Phones PRospect 4-9604 - 6-8571
Owned and Operated by Mr. & Mrs. M. GURBACH
Postmarked May 20, 1959
The Benjamin Franklin Hotel
Hotel Brighton Lobby
circa 1961
The Cavalier Motel
Hotel Charles
209-213 Asbury Avenue
Asbury Park, New Jersey
PRospect 5-8338
100 rooms, overlooking ocean, European plan, elevator, parking facilities for guests.
New Asbury Charline Motel
6th Ave. & Kingsley St., Asbury Park, N.J.
50 De Luxe Rooms, Pool, Air Conditioning, T.V., Telephone, Ocean Bathing, Open All Year.
Phone: 988-0300
Charles C. Clayton - Owner
Coleman House
Postmarked August 10, 1906
Hotel Fenimore
Hotel Fenimore
The Flamingo Motel
The Hollywood Hotel
The Imperial
Keswick & Astoria
PHONE ASBURY PARK 2-1715 - PHONE ASBURY PARK 2-6288
MRS. B. M. KANE ARTHUR D. McTIGHE
207-209 Third Ave. - ASBURY PARK, N.J.
- American and European Plans -
Capacity 300 Guests
All Outside Rooms with Running Water
Many with Private Bath and Shower
The Kingsley Arms
Postmarked November 12, 1943
Kingsley Arms Hotel - Motel
Kingsley St. & Deal Lake Drive
Asbury Park, N.J.
Elevators - Swimming Pool & Cabanas. Excellent Food in the "Coffee House". Cocktail Lounge - Private Terraces on all Motel Rooms. Commercial Rates. Motel Open All Year. Plenty of Parking.
Reservations: PRospect 5-7070
Postmarked July 1, 1965
New Lafayette Hotel
Fourth Avenue Overlooking the Ocean
Asbury Park, N.J.
Asbury's finest Air-Conditioned dietary law hotel. Phones in every room. Elevator service, Marine sun deck. Cabanas, Pool and Ocean bathing. Accommodates 350.
Telephone: PRospect 4-4600 or PRospect 6-7626.
Direct wire from New York City (Local Call) COrtland 7-3950.
Hotel Lakelyn
Overlooking Sunset Lake and Boardwalk
303 Sunset Avenue
Asbury Park, N.J.
Two Blocks to Beach and Boardwalk
The Lakelyn
Hotel Lincoln
Hotel Lincoln Candy Cane Lounge
The MacReynolds
305-307 Sunset Ave., Asbury Park, N.J.
Delightfully situated 2 blocks from ocean, overlooking Sunset Lake, near all Churches. Excellent home cooking. Hot and cold running water in all rooms. Private bath rooms, showers, lavatories.
Marlborough Hotel
New Tenney
The North End Hotel, Ocean Grove
The Plaza Hotel and Cafe 1913
Oceanic Inn
Hospitality at its best
201 6th Ave, Asbury Park, N.J.07712
1 Block from Beach and Convention Hall
50 Deluxe Rooms, Air Conditioned, Heat, Color T.V., Private Pool, Guest Laundromat, Complimentary Breakfast.
Centrally located to all resort activities
OPEN ALL YEAR - SPECIAL WINTER RATES
For Reservations (201) 988-0300
The Orbit Motel
Orbit Charline Motel
Fourth Ave. & Bergh St.
ASBURY PARK, N.J.
2 blocks from beach, 100% No draft
Air Conditioned, T.V. in every room
Private Pool
OPEN ALL YEAR - SPECIAL WINTER RATES
Charles Clayton, Owner
For Reservations: (201) 774-1444
The Plaza Hotel
The Plaza Hotel
Postmarked June 29, 1916
The Princess
Hotel Savoy
The Sea Rest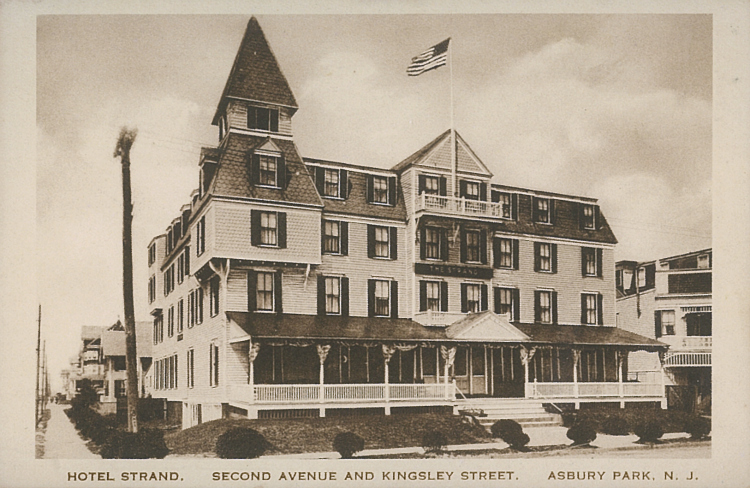 Hotel Strand
Second Avenue and Kingsley Street
The Tides Hotel
408 Seventh Avenue, Asbury Park, N.J.
Phone A. P. 2-0455
Our specialty - Italian and American Hoem Cooking and Hone-like Atmosphere. All outside rooms with hot and cold water, some with private bath. Reasonable rates by Day, Week or Season. For reservations write: Mr. and Mrs. John Neglia. Owner-management.
Hotel Thedford
Postmarked September 15, 1915
Hotel Van
Postmarked August 17, 1963
Wellington and Van Hotels on Fire, 1968
Hotel Waynewood
Hotel Waynewood
Hotel Wellington
FACING THE OCEAN
204 Sixth Avenue Asbury Park, N.J.
Office and Reservation Phone A.P. 2-0677
Outdoor Oceanfront Patio
American and European Plan
Hotel Wentworth
The Ocean and West End Hotels
Wyandank Hotel
The Zurich